I lived and worked in New York City for over 20 years. I moved there when I was young and the city was fresh, exciting, energetic, fun. It was the place to be … until it wasn't. The pushing and the pulling, the dirt and the noise. Everything was gray. Relentless, oppressive and claustrophobic. I needed air. I needed space. I needed out.
Moving to the New Jersey countryside with its quiet, open spaces was transformative. The first thing I noticed was the air smelled so sweet. There was so much green, so much sky; they seemed endless. Literally and figuratively, new horizons materialized. The horizon is more than a reference to my move from the city, it's become a visual metaphor for change and the endless process of transformation. It speaks of a shift in consciousness and perspective, a gentle reminder of the passing of time, and the brevity and fragility of life.
The structure of my work is founded on the basic elements of a quilt – three layers consisting of a complex surface, an interior batting and a fabric backing – all held together with stitch. The quilt maker's historical practice of re-purposing old clothing ties in with my use of discarded silk saris from India and is another layer of metaphor for transformation.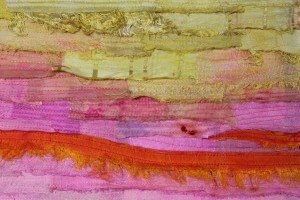 These beautiful silk sari remnants vary greatly in color, weave and weight, bringing a variety of sheen, pattern and texture to my surface designs. They are torn and tattered, a distressed quality that adds to the visual texture and embraces the beauty of the imperfect and the fragility of the impermanent. Imbued with their own history, they carry the stories of the women who wore them and the silks themselves have been on their own transformative journey, cocoon to clothing to art.
By blending textiles and textures with the transformational, I arrive at a visually layered destination of color, line and space.
My early artistic pursuits were in the dramatic arts brought me to New York City and a chance course on quilt making at The New School/Parsons led to an exploration the visual arts through textiles. Mostly a self-taught artist, I've been fortunate to have my work accepted into national and international exhibitions, including Quilt National, receive awards, be published in books and magazines and appear in private collections throughout the US and Europe, including the new Stony Brook Cancer Center in Long Island, NY. I now live in Clinton, NJ.