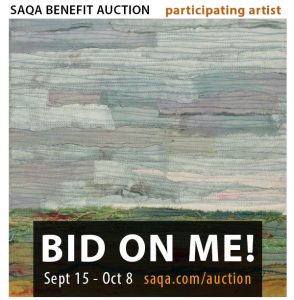 SAQA is once again preparing for its annual Benefit Auction! 443 12 x 12 inch mini masterpieces will be available for bidding. This REVERSE auction (bidding starts high then drops through the week) is in three groups for three weeks. Group 1 starts on September 14, Group 3 ends on October 7. I don't have a piece up for auction this year but I plan to bid and help support this wonderful organization.
Never heard of SAQA? Studio Art Quilt Associates. Don't know what they do? From their website –
"SAQA is a world-wide resource for information on the art quilt and the artists who create them. In addition to mounting museum-quality exhibitions that travel the world, SAQA documents the artquilt movement through exhibition catalogs and the continuing series of Portfolios, the art quilt sourcebook.
SAQA creates professional development opportunities for the membership that continue to address the ever-changing needs of the artist. From basic studio management to mastering current technology for both business and artistic purposes, SAQA members have access to a treasure trove of support for taking their artwork and career to the next level.
Over the past 30 years, SAQA has evolved into an active and dynamic organization that offers many services to our members as well as to the community at large. Our website provides visibility to the accomplishments of the artist members and gives members immediate access to information about exhibition opportunities, announcements of upcoming events and conferences, and other resources."
To see all the available artwork and to learn how the auction works, visit http://www.saqa.com/auction or click on the image above.